These sustainable problem-solvers are taking a new approach to wildlife and pest management
Humane Solutions is featured in the 2021 Environmental Excellence in B.C. magazine.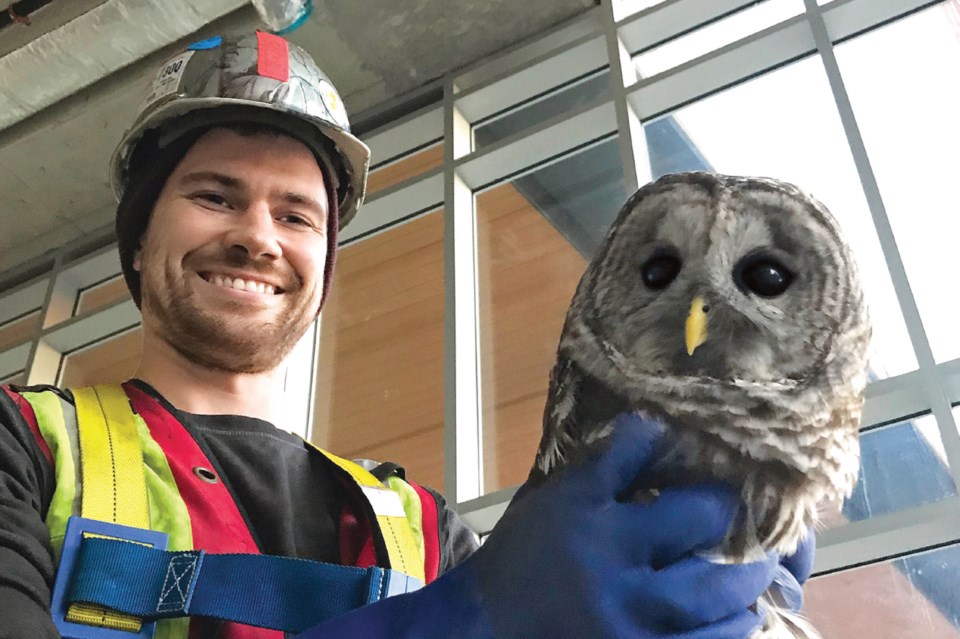 While studying environmental sustainability at UBC in 2015, Joe Abercrombie must have had some intuition about the future and his role in it. Intuition, plus grit, resourcefulness, and the desire to pay bills all led Abercrombie to accept a contract for pest control work and make a realization that would swiftly pull him from academics and dive headfirst into entrepreneurship.

With an extensive background in results-based work in the wildlife industry, Abercrombie was immediately aware of the larger issue when he was exposed to the industry standard for pest control in Vancouver. He quickly realized that the pervasive model is to convert pest and wildlife conflicts into sources of recurring revenue, not to solve the issue quickly while prioritizing clients' budgets and animal welfare.

"I got a truck, made a website and got going," Abercrombie explained. Now CEO of Humane Solutions, his business has been struggling to keep up with demand. "We have since grown exponentially and have built an amazing team of diverse and skilled professionals, all of whom prioritize ethics and sustainability above all else."

With a head office in Vancouver and a permanent division in the B.C. interior, Humane Solutions offers sustainable wildlife and pest management services to most major municipalities in B.C. A growing segment of the business is focused around innovative, high-profile wildlife management such as coexistence with beavers, predator monitoring and response, and specialized training services for industry and government, which are in demand across Canada.

"We try to be sustainable problem-solvers," says Abercrombie. "We have hundreds of different services and add to them by the week, due to the wide range of problems we are asked to help with. Some days we are physically controlling pests and wildlife, and others we are framers, roofers, stonemasons, and general handy people."

"We believe we are saving wildlife and helping drive sustainable development by solving human problems," he says, adding "rodents don't just magically appear because there are crumbs behind your stove, there are access points on your structure letting them in, and it does not matter how clean you are – the structure itself is a resource."

The Humane Solutions ethos is to direct all funds and effort into these root causes. Only once they are effectively mitigated do they apply control methods to the species still in conflict. "Would you pay a roofer to return weekly to change the bucket under a roof leak? No, you demand a permanent result with transparent billing," Abercrombie says.

"By marrying older skills born from the fur trade and construction techniques, with modern safety and due diligence processes, we are in a league of our own," says Abercrombie. "We are the only company that is 100% rodenticide-free and have proven it successful over the last 5 years."

"Additionally, we are the only company that works with high-profile wildlife including furbearers and predators, as well as training municipalities and government agencies on our proprietary wildlife coexistence and intervention strategies," continues Abercrombie.

"We are relied upon and involved in the movement pushing the public outcry regarding banning rodenticides which pressured multiple B.C. municipalities to do so. The Ministry of Environment dropped a provincial wide ban and Humane Solutions is an enthusiastic participant of the scientific review process. That is so meaningful and positive, and hopefully has a disruptive effect on policy and results in some system change, because that is our goal." he says.

The proof is in the pudding, as Humane Solutions essentially swept the 2021 business awards in their category, claiming the top spots in the 2021 Consumer Choice Award, Top Choice Award, and Canadian Best Businesses.

Humane Solutions is aiming to expand their pest and wildlife services Canada-wide over the next couple of years, but their ambitions are greater than just dealing with wildlife. Humane Solutions hopes to become a socially motivated group of companies, with immediate plans to become involved with recycling, upcycling hard and soft plastics, and helping to solve the issue of the cycle of poverty in Vancouver's Downtown Eastside.

Says Abercrombie, "we are a socially motivated company, and our overall ambition is to grow and pivot to where people need help, and we feel we can do some good."
Humane Solutions is featured in the 2021 Environmental Excellence in B.C. magazine.